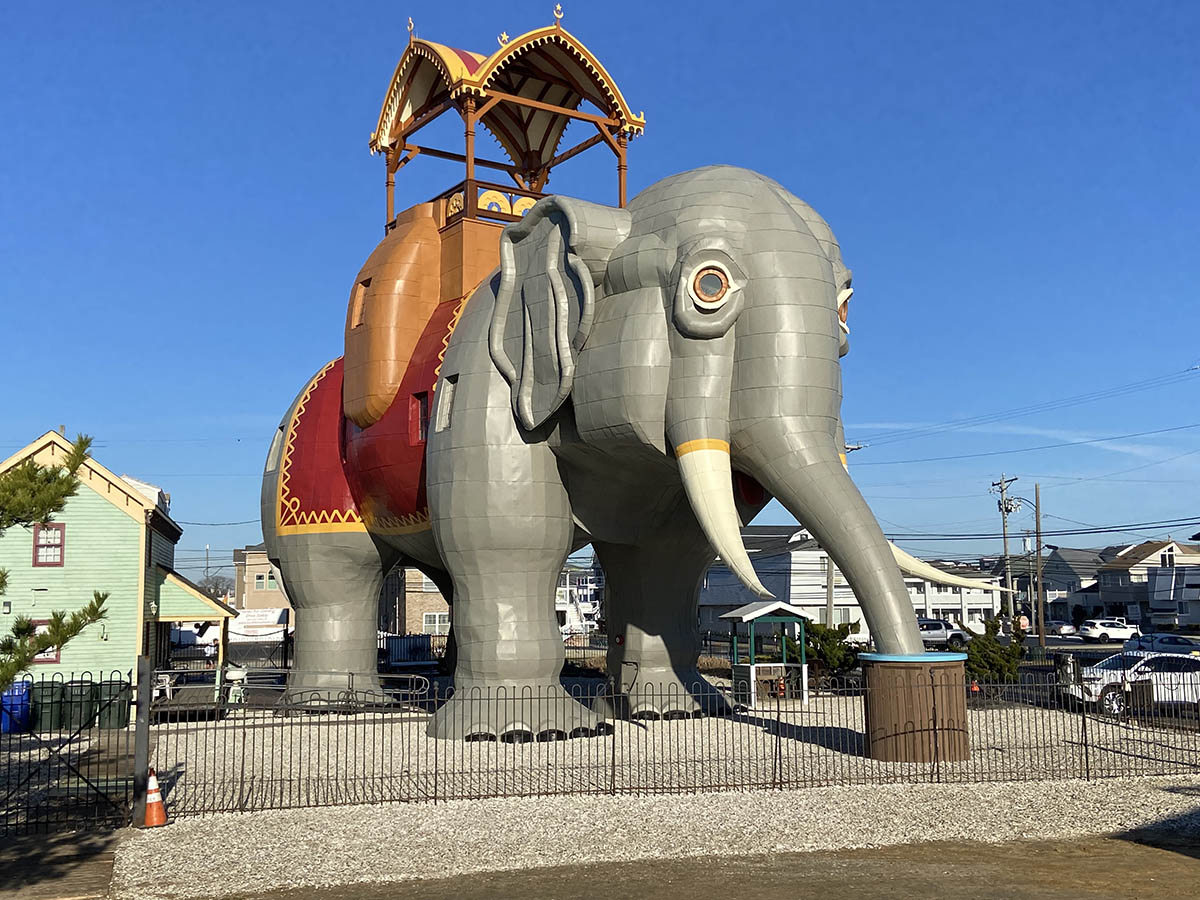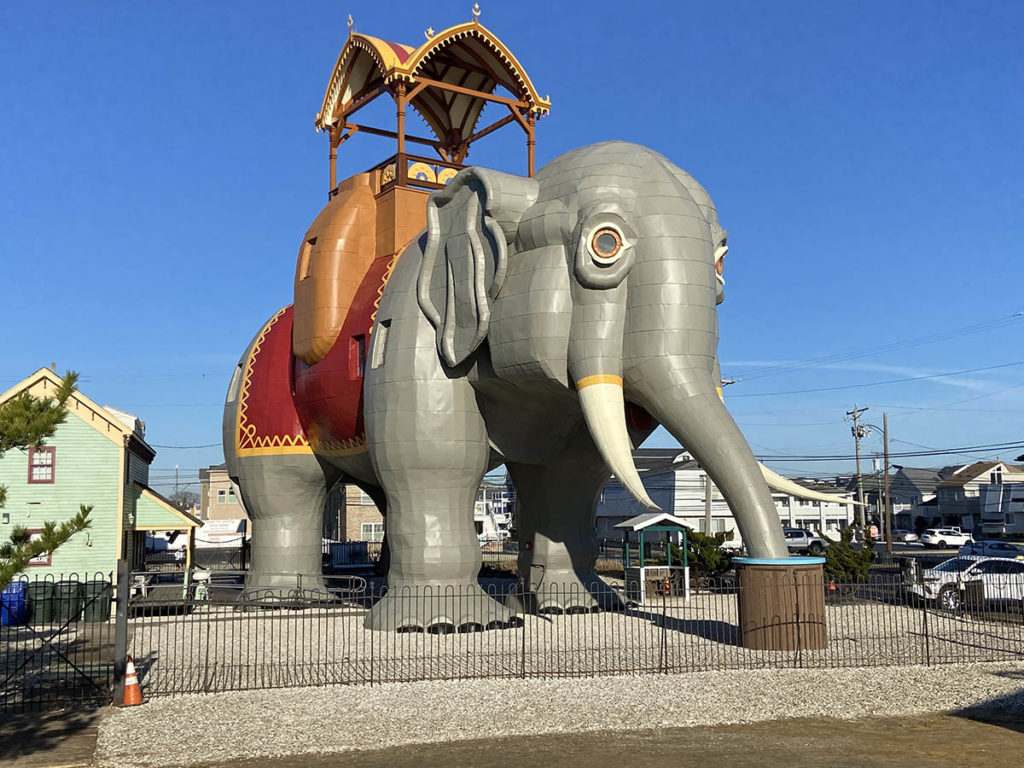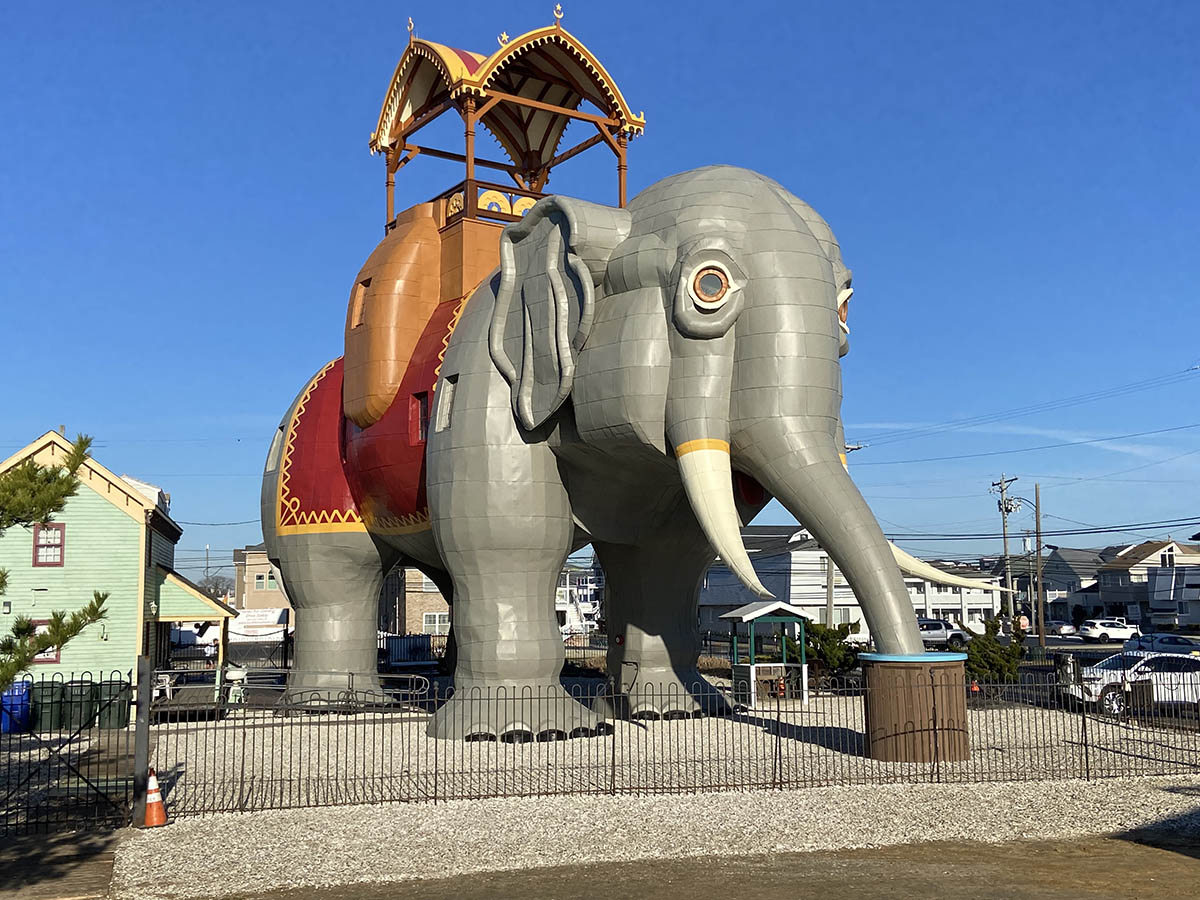 By Charlie Sprang
Lucy the Elephant has been standing guard over the beach in Margate City for more than 140 years. The six-story, 90-ton structure was named to the National Registry of Historical Places in 1976 and has withstood all sorts of weather conditions over the years, including Hurricane Sandy in 2012.
Lucy was initially constructed using over one million pieces of wood, 200 kegs of nails, four tons of bolts and iron bars, and then covered with 12,000 square feet of tin. Structural repairs and upgrades were made in the early 1970s, but time has taken its toll. In August 2021, the Save Lucy Committee announced that more than half the elephant's skin was damaged beyond repair and needed to be replaced. A  month later the famous tourist attraction was closed and work began on Lucy's facelift.
"We had to reskin Lucy," explained John Green, president of A.C. Gentry, the Colmar, Pennsylvania architectural sheet metal company. "We had to rip off the metal and replace it."
A.C. Gentry is a Local 19 signatory company started by Green's father and grandfather in 1994. The company specializes in architectural restoration and design. Green and his father, also John, are both Local 19 members, and his younger brother, Jacob, is a second-year apprentice. 
Green's father is still active in the day-to-day operations while Green lauds his father's overall knowledge of sheet metal work, and historical work in particular.
"I really don't know of any other company doing this type of work," Green said. "If you want to do historical work you have to learn it from the generation prior. Everything I know I learned from him. He's super talented when it comes to sheet metal work and especially with the layout. He could teach a master class."
Several of their projects – the roof restoration at St. Francis De Sales in West Philadelphia, the copper cross restoration at St. John the Baptist in Manayunk, and the cupola restoration at both Haverford College and the Overbrook School in Malvern – are featured on their website (www.acgentryinc.com).
A.C. Gentry has 12 full-time employees and Green said they all took the initiative to learn the intricacies of doing historical sheet metal work. Four employees from Gentry, along with Green or his father, worked on the Lucy the Elephant job for nine months. 
"The first thing we had to do was remove all the skin that was on there," Green said. "We didn't do it all at once; we did it section by section. We broke it down into quadrants: three on the sides and four around. There were a total of 12 quadrants, each 10 foot by 10 foot."
Removing the skin exposed damage to the wood frame, one of several challenges they would face. Green said, "It looked like a shipbuilder made it; there was a lot of rot. They had to call a carpenter in to do the woodwork."
There would be other challenges as well. First and foremost was Lucy's shape. No piece was flat nor was it the same as the one next to it. They did a majority of the bending on site and were working with a material called Monel, which is a nickel-tin alloy similar to copper, but with the characteristics of stainless steel. According to a description in Wikipedia, Monel alloys are resistant to corrosion by many aggressive agents, including seawater, and they can be fabricated by hot and coldworking, machining, and welding.
The Save Lucy Committee, which received a grant from the National Park Service and did a lot of fund-raising to pay for the project, researched and selected the material, purchasing 12,000 square feet in 3-foot by 8-foot sheets (400 total) at a cost of $1,200 per sheet. Since each piece had to be fabricated to form Lucy's contour and fit the next one, there was a lot of waste – but every scrap was saved.
"The panels were not put together haphazardly," Green explained. "The key was to figure out how to do it. There is not a piece that is the same as another and they are all rounded. We saved every little piece, thinking 'I can do something with this one, or I can do something with that one.'"
"The real challenge with Lucy was that Lucy had a big belly. Imagine putting a piece of sheet metal on a wall to patch the wall – it's flat. But Lucy was like a ball. She had concave curves and convex curves and they all locked together. Imagine making a ball out of sheet metal. It's hard. So, you have these flat pieces that you first have to roll out, then you put your bends in. You roll it one way and then roll it the other way. Then you had to pull the panels out so they locked together."
The panels were fastened together with custom-made metal clips – two per side – and they were locked in, one next to the other. Since each panel was unique and basically had to be cut and formed as they went along it was not only very labor intensive, but also required finding solutions on the fly.
Over time it came together. The final step was a water test with the help of the local fire department. Before that, though, Green and one of his employees, Paul Carter, who along with Alex Ambron, was instrumental in doing the work, spent a month going over every inch of Lucy, fine checking all the details.
Lucy the Elephant passed the test. The scaffolding came down right before Christmas and the Save Lucy Committee held its grand opening on December 28.