Philadelphia Training Center
Joining the Local has definitely secured my future financially, it secured my retirement. If I knew that it was an option earlier, I would have definitely joined right out of high school.
– Caitlyn Bednar, Local 19 apprentice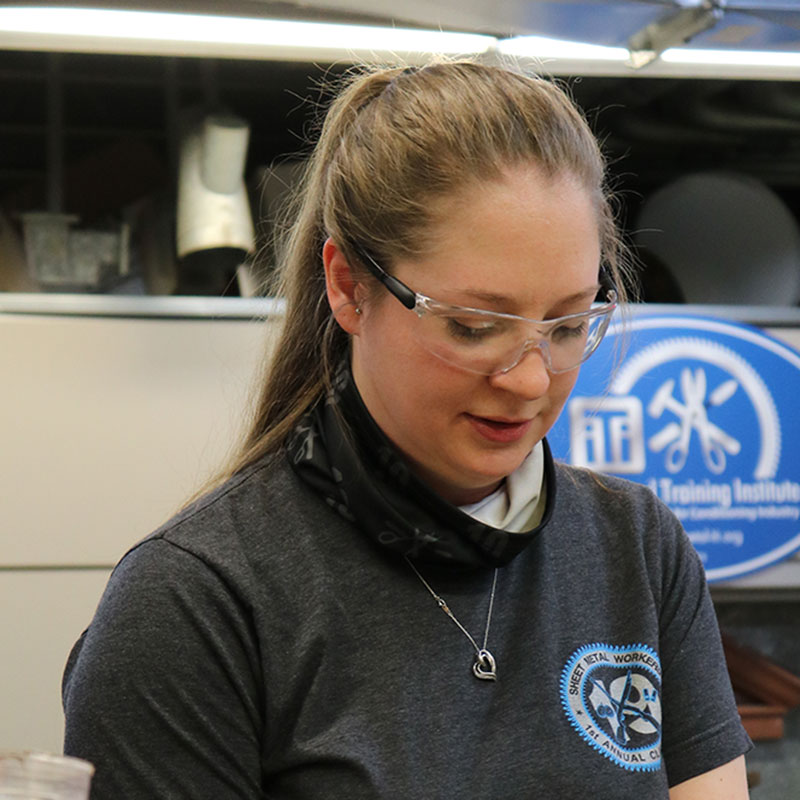 The Sheet Metal Workers' Training Center of Local Union 19 brings many groups and purposes together for a common goal. We are dedicated to ensuring a dependable source of skilled, versatile sheet metal workers to our cooperating employers.  
We also strive to provide committed men and women the basis for a challenging, rewarding trade through training and encouragement. Those men and women will also find the resources necessary to stay current in a dynamic building atmosphere.  
Finally, the Training Center develops the continuing generations of brothers and sisters for Local 19, to help ensure growth and prosperity of ​all members.
Joseph S. Frick
Training Coordinator
Messages from Co-chairmen
To meet the needs of our industry, we have developed one of the most thorough and comprehensive training programs in the entire nation.  
Our Training Center utilizes state-of-the-art equipment and techniques to meet the changes in our industry, yet never forgetting that quality must prevail.
Our program develops skilled sheet metal apprentices and journeypersons who are competent in all aspects of our trade and are able to work safely without close supervision.
Training highly skilled sheet metal workers is part of our heritage, something that was started in the early years of this century when we first included apprentices in our membership. We formalized that responsibility in 1937, when our first off-site training program began and set the standards for instruction and achievement.
Today, the program is governed by the Joint Apprenticeship and Training Committee, a group of union and employer professionals who realize the need to create a steady source of skilled sheet metal workers. The cooperation between the group stresses that training will provide the skills the marketplace requires. It also indicates that hard work will be rewarded with good employment.
We also participate in the International Training Institute. This is a national organization that includes every Sheet Metal Fund in the country. They provide us with a wealth of training information and materials that comply with the highest standards of the industry.
Please let us know if more information is required about Local 19 or our programs. We welcome visitors to our Training Center and are always willing to sit and talk with prospective members and contractors.
Sincerely,
Gary Masino
President / Business Manager Sheet Metal Workers' Local 19
Welcome to the joint apprenticeship program for the Unionized Sheet Metal Industry of the Greater Philadelphia Metropolitan Area. We are very proud of this program operated by the Sheet Metal Contractors Association of Philadelphia and Vicinity (SMCA) and Sheet Metal Workers' Local 19.
​​​Our Leadership team of Employers and Union Leaders work together to administer a 4 1/2 year training program that guides and develops a new employee from an entry level (1st period) apprentice to a journeyperson mechanic. From there the sky is the limit for each individual.
Ongoing education and training is the number one thing that sets the union construction industry above the competition. Without an adequate supply of well-trained workers available to perform high quality work on time and on budget, our industry would be an empty promise.
Education does not stop once you are a journeyperson mechanic. There are many, many "upgraded" programs available to journeypersons. These programs include Computer Aided Drafting (CAD), building information modeling (BIM), testing adjusting, and balancing (TAB), a wide variety of specialized welding programs, and countless other programs that are offered as technology emerges.
Local #19 and SMCA agree on the fundamental value of a well trained workforce. The joint apprenticeship and training center is truly the common ground upon which labor and management meet. SMCA contractors will continue to develop and deliver high quality products and services for our customers because they can count on the skilled workforce trained through the joint apprenticeship program and supplied through Local #19.
Sincerely,
Gary G. Luthe
President, Luthe Sheet Metal, Inc.
Philadelphia Joint Apprenticeship and Training Center
The programs take place in some of the most modern facilities for training, including the nationally recognized Testing, Adjusting and Balancing Lab; a Service Room that provides hands-on instruction on almost every type of HVAC equipment available; state-of-the-art Cleanrooms for the most advanced ventilation training possible; and a testing facility accredited by the International Training Institute (iTi) and the American Welding Society.


When working in our union shops, apprenticeship training offers an "earn while you learn" system that allows participants the chance to learn from — and work with — trained journeymen while also making excellent pay.



According to the

U.S. Labor Department

, apprenticeships are on the rise, increasing from 375,000 in 2013 to over 400,000 today. The average salary after completing an apprenticeship program ranges from $51,000 to $72,000, and 92% of apprentices find and retain their employment after completing an apprenticeship program.
Register using the link below and get your temporary password.
Print the Help Pages, Consent Form, and your answers to the Essay Questions.
Complete the Application Online and click "submit". Print your completed application.
Follow the directions, you will need two (2) forms for Identification (i.e. Social Security Card, Drivers' License, Passport, School 1.0., etc.). One must have a recent picture. Gather your Birth Certificate, answered Essay Questions, High School Transcripts, or GED with scores. Sign the Application and Consent Form. Purchase a $10.00 Money Order.
Bring ALL your documents to the Training Center on the 2nd (SECOND) Monday of any Month to sign up for your aptitude test date.
Following directions is a part of the Application Process; as each of the three (3) parts are graded. The three (3) parts are Application, Aptitude Test and Personal Interview.
Contact Our Training Center
Donald J. Smith Jr.
Training Coordinator
Phone: 215-952-1950
Option 5

Instructor:
Ron Deichert
Phone:  215-952-1950
Fax:  215-952-0410​
Joint Apprenticeship and Training Committee
Local No. 19 / Sheet Metal Contractors Association (SMCA)
Local 19
Gary Masino
Co-Chair
Bryan Bush
Gerard Gontz
Thomas Bush
Howard VanBuren
SMCA
Gary G. Luthe
Co-Chair
Peter Jenkins
Dominic Bonitatis
Robert Johnston
Matthew Sano
Sheet Metal Workers' Local 19 joint Apprenticeship Fund of Philadelphia and Vicinity will not discriminate against apprenticeship applicants or apprentices based on race, color religion, national origin, sex (including pregnancy and gender identity), sexual orientation, genetic information, or because they are an individual with a disability or a person 40 years old or older. Sheet Metal Workers' Local 19 Joint Apprenticeship Fund of Philadelphia and Vicinity will take affirmative action to provide equal opportunity in apprenticeship and will operate the apprenticeship program as required under Title 29 of the Code of Federal Regulations, part 30.