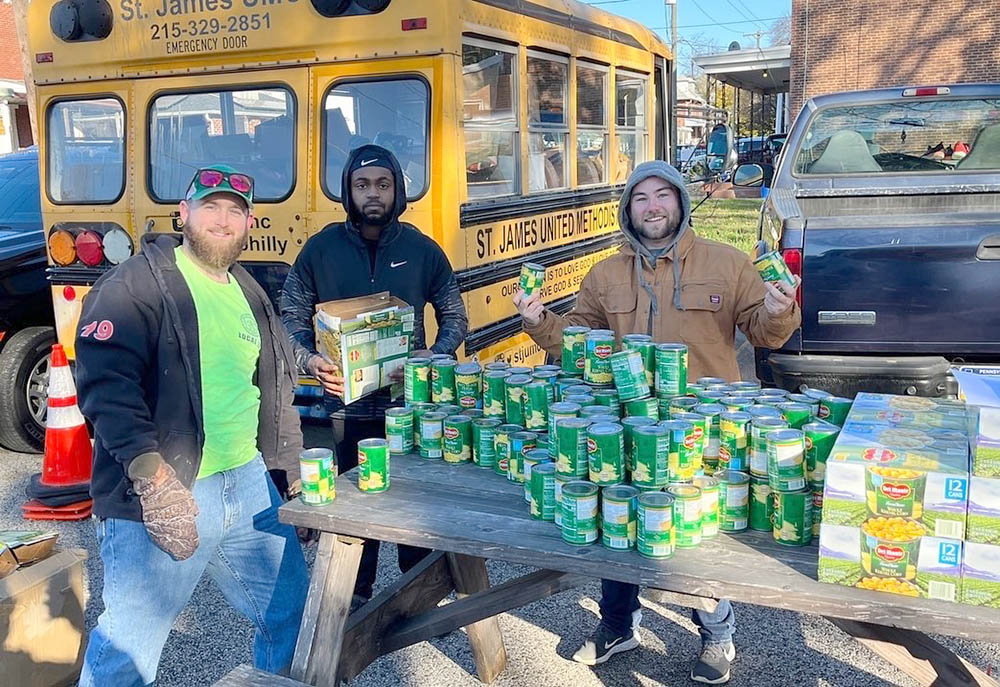 Throughout the holiday season and beyond, Sheet Metal Workers' Local 19 and its members have been helping those in need throughout the region, providing donations and volunteers to help local families. Many families across Pennsylvania, Delaware, and New Jersey have experienced hardships, and Local 19 is proud to give back to the community which gives so much to us.
Helping Philadelphians in Need
"Every year, Local 19 has been blessing us with a donation," said the Rev. Bob Paul, pastor of Piney Grove Baptist Church, which is located in the Logan neighborhood of Philadelphia and has a focus on serving those most vulnerable outside the church — the elderly, the hungry and the economically disadvantaged.
Our union's donations to the church helped them feed hundreds of neighborhood residents and children, as well as local first responders.
"We've been going into the Logan community. We have been feeding the Logan Elementary School, which is directly across the street from our church. We feed the entire staff, including the faculty," said Rev. Paul. "We also go into the Piney Grove Day Care, where we also feed the faculty. They do daycare and evening activities for children in the community, so helping them has tremendous impact. We also go to some homeless shelters in the community."
Rev. Paul said that anyone who came to the church the Tuesday before Thanksgiving received a full course Thanksgiving meal. They typically prepare about 200 meals. Unlike previous years, when people were fed on-site in the dining area, this year people were given to-go platters due to concerns with COVID-19. 
As every year, Local 19 partnered with St. James Methodist Church to feed 300 Philadelphia families during Thanksgiving. 
The Saturday before Thanksgiving, Local 19 members pitched in to fill meal boxes for the needy at St. James' location in the Olney section of the city. The union has been working alongside the 9th Councilmanic District (now represented by Anthony Phillips) and the Carpenters Union in this effort for several years at this point. Every year, more families are given full Thanksgiving meals for the holiday. This is what the holiday should be about – service to others and making sure we all have enough.
Also, in Northeast Philadelphia, Local 19 sponsors Helping Hands in the Northeast, an organization that helps needy families with a Thanksgiving meal.
Around Christmas time, Local 19 also sponsored two families in need through a program that the Philadelphia AFL-CIO has sponsored for many years to give back to the community.
And again, Local 19 was proud to sponsor a Christmas gift giveaway at the Piney Grove Baptist Church where toys were distributed to children or families to ensure they had a Merry Christmas.
Giving Back in Bucks County
In Bucks County, Local 19 worked with the Bucks County AFL-CIO to give back to families in need. Every year the Labor Council, with help from affiliates like Local 19, make and drop off food baskets for union families in need for Christmas.