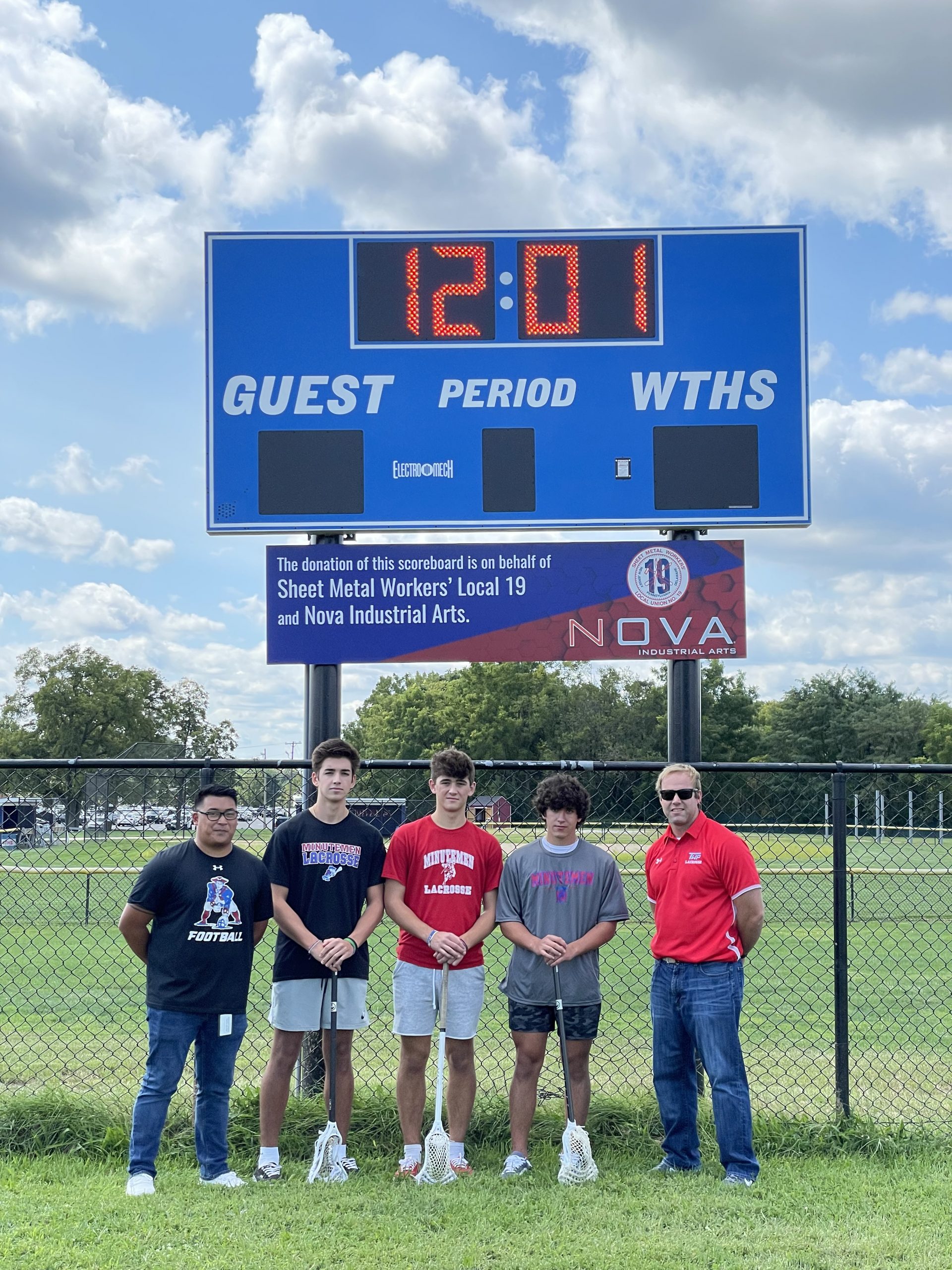 Local 19 and Nova Industrial Arts Donate Scoreboard to New Jersey High School
The work our members and our movement do goes far beyond the job site, from monetary donations to community service jobs that put our members' skills to good use. This year, Local 19 and our contractor partners at Nova Industrial Arts were proud to donate a new scoreboard to Washington Township High School. After delays due to COVID-19, the sign was finally able to be put up at the end of the 2021 school year.
The boys' lacrosse team, youth football and soccer teams, and other local community groups utilize the same astroturf field at the high school, but the field was missing a scoreboard for games. The boys' lacrosse booster club had been discussing getting a scoreboard for varsity games for years; portable signs are unreliable and small, and the students wanted a chance to be able to play games on their home field. Local 19 Organizer Bob Gadsby heard about the problem through his stepson, a starting attackman on the team. He knew our membership would be eager to help out and set the wheels in motion to make a donation.
"​​The scoreboard will make a tremendous impact not just to our program but all the organizations in Washington Township that use the field," said Josh Hanlon, business teacher and lacrosse coach with Washington Township High School.
Local 19, along with the Nova Industrial Arts, installed the scoreboard, and Washington Township Electricians provided the electrical connections. Washington Township Municipal Public Works Department assisted with the site mark out. Local 19 was proud to join these organizations in this group effort to better the school.
"Many of our students pursue careers in the trades and SMW Local 19 sets a good example for our students to see the valuable work they provide to communities across the region," said Kevin Murphy, Director of Athletics, Washington Township Public Schools.
After a hard year for students across our region, we're happy to use our skills and time to donate something that will brighten the days of local students and the community.