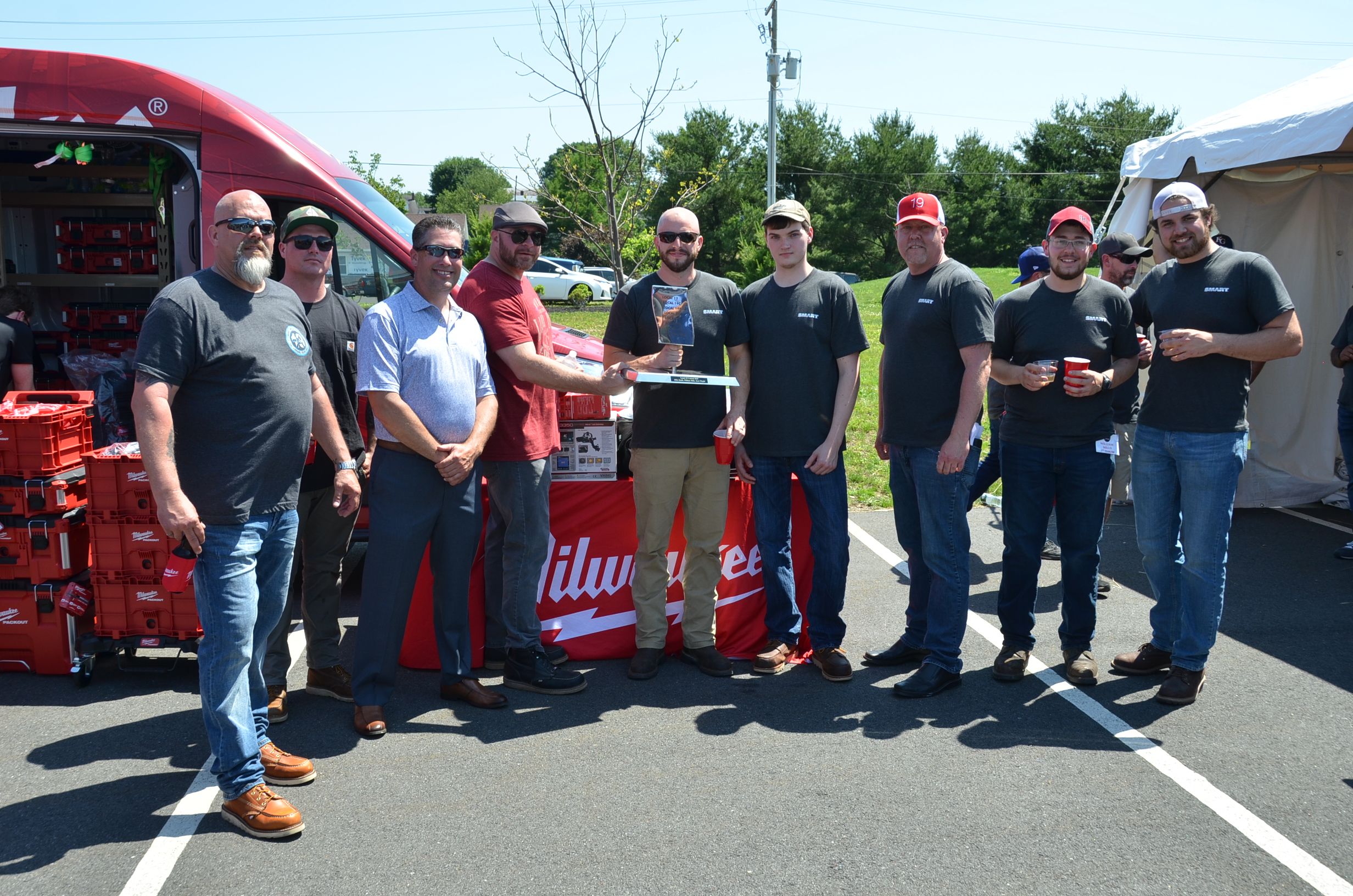 Local 19 Wins Big at Mid-Atlantic Apprentice Competition
The 2021 Mid-Atlantic Apprentice Competition was hosted by Local 19 at the Central Pennsylvania training center. This year's contest included contestants from Local 12 (Pittsburgh), Local 19 (Philadelphia), Local 19 (Central PA), Local 44 (Wilkes-Barre), Local 22 (Central NJ), Local 27 (Southern NJ), Local 100 (Washington, DC), and Local 112 (Elmira, NY). Contestants competed in the following categories: 2nd year, 3rd year, 4th year, 5th year, and a group competition.
This year's event was different than in years past. It included a 5th year competition to make up for the missed 2020 competition, allowing 5th year apprentices or 1st year journeymen who missed the competition the opportunity to compete.
The Local 19 competitors were: 2nd Year: James Primodie and Austin Daniels, 3rd year: John Lawrysh and Braxton Koppenheffer, 4th year: Christopher Hart and Zachary Mortimer, 5th Year: James Woods and William Mills.
Here is how Local 19 members fared in the competition:
2ND YEAR: James Primodie was the first-place finisher and Austin Daniels took third place.
3RD YEAR: Braxton Koppenheffer was the first-place finisher.
5TH YEAR: William Mills was the first-place finisher.
GRAND CHAMPION: This year's contest featured a new category of "Grand Champion." The contestant who scored the highest grade for all aspects was crowned the Grand Champion. Braxton Koppenheffer took home this honor.
GROUP CONTEST: 
1st Place: The team of Austin Daniels, Braxton Koppenheffer, Zachary Mortimer, and Austin Mills.
3rd Place: The team of James Primodie, John Lawrysh, Christopher Hart, and James Woods.
The contest is a great experience for all involved. Apprentices can meet fellow apprentices and journeymen from all over the region and make lifelong friends.
"One word to sum up the apprentice competition weekend – camaraderie," Mortimer said.
"That may have been one of the first times in my life where the weekend started in a room full of complete strangers that within hours turned into brothers/sisters. To me personally, that's what the union is all about. Building a trade, building a career, and being there for fellow members." 
The contest exemplifies brotherhood. As unions from all over the region get together to test the skills of the apprentices, they realize that the trade is more than a job. They understand that our craft bonds us to our brothers and sisters and that union ideals make us family.
"The Mid-Atlantic Apprentice Competition was a huge success due to the involvement of all the locals that participated. It's more than a competition; it's seeing camaraderie, brotherhood, meeting new faces and building lifelong relationships." said John Espinos, Local 27 Training Coordinator.
"The contest gives the apprentices a chance to get away from their home locals, be part of a regional event and see how much support all of us in the industry are putting behind their success," added Joseph Frick, Training Coordinator for Local 19, Philadelphia. "It can be an experience of a lifetime. I am so thankful for all the local unions, contractor associations, prize sponsors, and the contest committee for everyone's participation to make this contest a success."
Sponsors are vital to the success of the competition. They help pay for the entire event including prizes, the banquet, and shop materials. The dedication to the industry is proven by the donations of the following sponsors: SMCA of Central & Southern NJ, SMCA of Central PA, SMACNA of Western PA, SMCA of Maryland/DC, SMACNA Mid-Atlantic, SMCA of Union, Morris, and Somerset, SMCA of Northeast PA, SMCA of Philadelphia and Vicinity, Twin Tiers Sheet Metal Contractors Association, Blanski Energy Management, Bonland Industries, Buist, Inc., Thomas Company, Airgas, Alro Steel, Dewalt, Duro Dyne, Everhard Products, Klenk, Field Piece, G & S Fasteners, Lawson Products, Lenox, Lincoln Electric, Malco, Milwaukee Tools, Retrotec, Roper Whitney, Steadman, Tennsmith.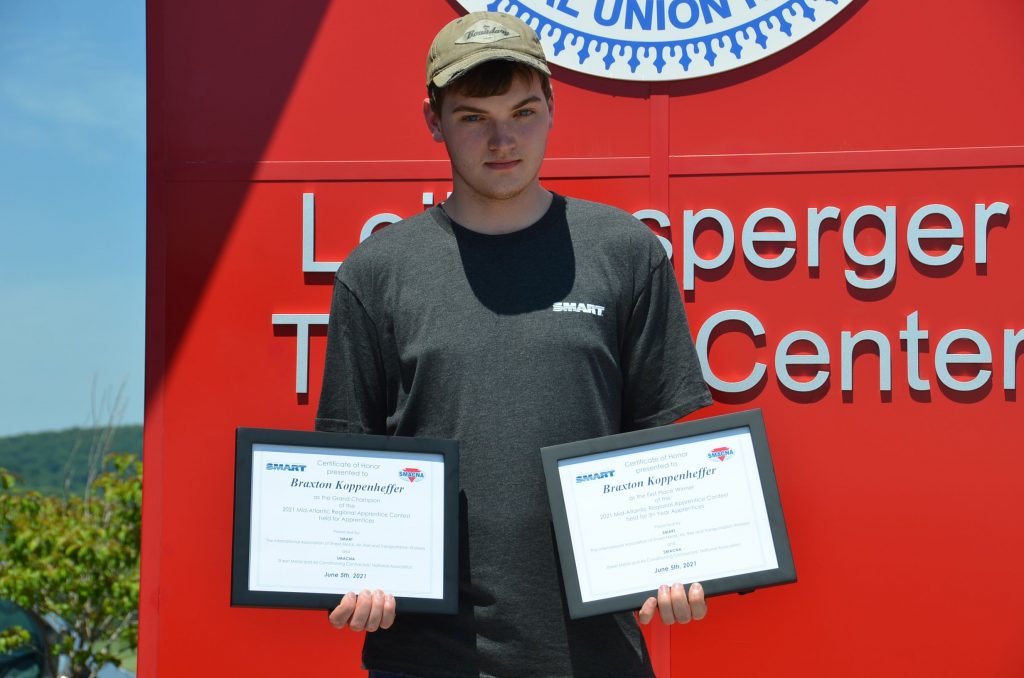 Braxton Koppenheffer receiving his two awards.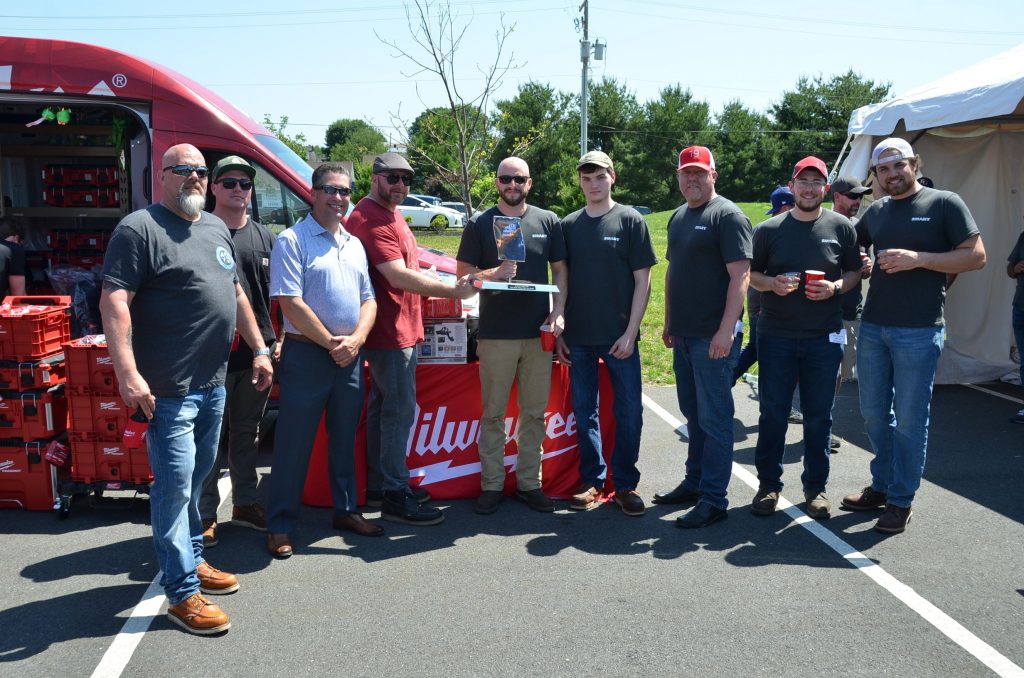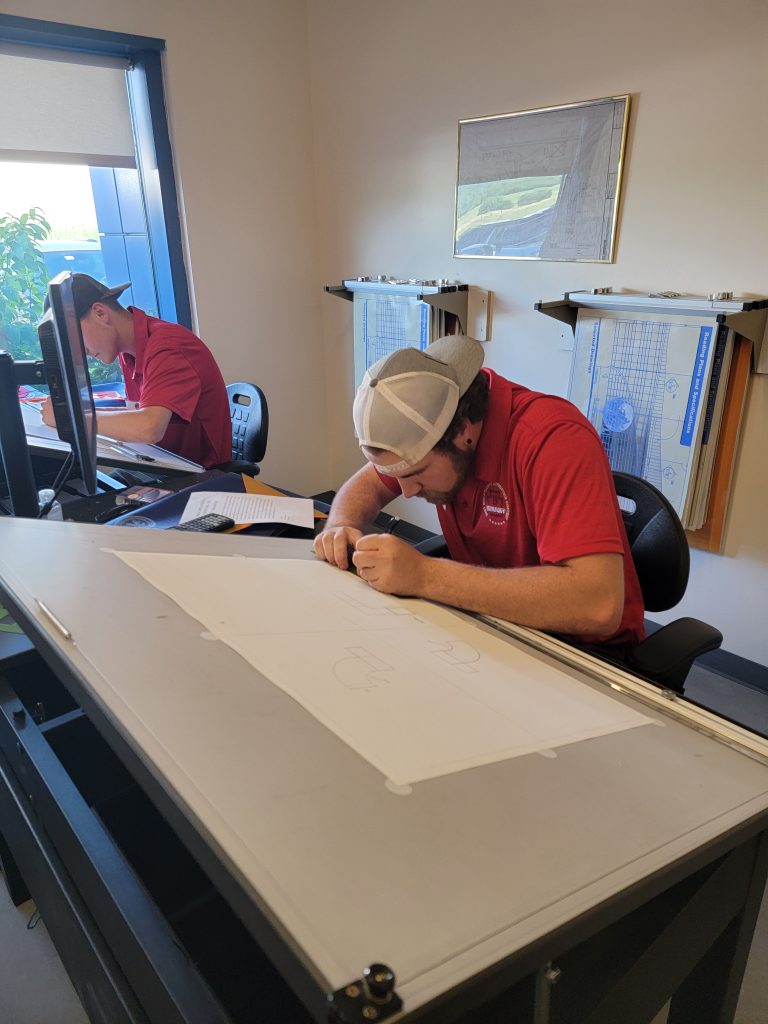 Austin Daniels works on the drafting portion of the contest.